SSW Partners with Military Radio Network
Bringing attention to the mental health needs of Veterans, service members and their families
Thanks to a connection made by a Smith alumna, SSW has established a partnership with Veteran Caregiver and Military Network Radio, to better communicate research and care strategies for Veterans, service members, and their families, and to reach a broader audience.
Kathryn Basham, SSW professor and co-director of the Ph.D. program, has worked with service members, Veterans, and their families throughout her career as a practitioner, researcher, and educator. In her research, she focuses on clinical social work practice related to the effects that deployment and combat stress have on the re-integration of service members, Veterans, and their families. Basham leads the School's efforts to prepare students for clinical social work practice with military-affiliated populations in Veterans Affairs (VA) and Department of Defense medical centers, as well as in community settings, and to educate all SSW students in the specific mental health concerns and needs of these populations.
Basham also has made it a priority to reach beyond Smith to help Veterans, service members, and their families understand the support available to them and to educate practitioners who work in the field to find ways to meet their mental health needs. Teaming with Linda Kreter and Military Network Radio has proved to be an excellent conduit for this outreach.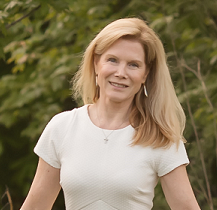 Linda Kreter is a Smith College alumna and the founder and CEO of WiseHealth, Inc., which focuses on military and Veteran family support and comprehensive health and wellness. In 2010, she launched VeteranCaregiver.com, a network providing advocacy, support, education, resources and promoting peer-to-peer support to families of ill and/or wounded Veterans. In order to reach more caregivers and servicemembers, Linda created Military Network Radio, a weekly online podcast for military/Veteran families, which she hosts along with a team of presenters.
Beginning in the fall of 2015, every other month, Kreter will interview Basham and other social work educators regarding current mental health research and strategies geared toward her audience. Subjects may include re-integration, relationship issues (such as communication, intimacy, and attachment issues), the effects of secondary trauma on family members living with a Veteran who is coping with PTSD (Post-Traumatic Stress Disorder), TBI (Traumatic Brain Injury) or other injuries, and aging among Veteran populations. Kreter will interview researchers as well as practitioners who work in military mental health settings.
"It has been a real blessing to find this connection and align so closely with Smith," Kreter said. "We welcome this partnership and look forward to instilling hope and healing through bringing our programs together."
Military Network Radio shows air weekly on Tuesdays, 10-11am EST, on Toginet.