Hannah Karpman, M.S.W., Ph.D.
Associate Professor | Practicum Faculty Adviser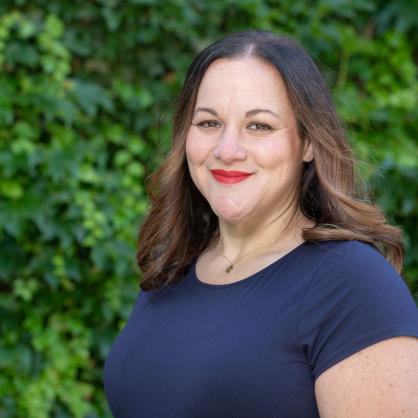 Education
B.A., Mount Holyoke College  
M.S.W., University of Pennsylvania  
Ph.D., Brandeis University
---
Biography
Hannah Karpman, M.S.W., Ph.D. is an assistant professor in the School for Social Work. She is the chair of the policy sequence, teaches in the research sequence, and engages in internship and research advising across both the Ph.D. and M.S.W. programs. Karpman's career began as a clinician working with adolescents in acute care settings. She eventually became the program director of an acute care facility for young people, and then the director of quality for the umbrella agency. Her experience providing and managing clinical services is at the center of her current research, which focuses on marginalized and stigmatized youth and families and their interactions with formal helping systems.
Karpman's research spans two major focal areas, each of which centers a particular population and its interaction with formal helping systems. In her first stream of research, Karpman examines the provision and quality of care for young people with serious mental illness within public sector systems (like Child Welfare and Medicaid). This line of scholarship includes:
The development, implementation, and evaluation of a large scale initiative to improve the quality of public sector mental health services for youth and families
The evaluation of several SAHMSA initiatives to improve the quality of systems of care for youth in various geographic regions
The articulation and evaluation of policy mechanisms to improve behavioral health care for youth in child welfare systems
Karpman's second stream of research centers the experiences of LGBTQ individuals and families and focuses on their interactions with health and behavioral health care systems. In 2012, she began the Known Donor Project, a mixed method study which investigates the family formation choices of queer families who use the sperm of friends, family members, or acquaintances for conception, which expanded to create connections between and provide education to families considering this family structure. In 2019, she combined her two areas of interest to help develop a hybrid mental telehealth clinic for underserved LGBTQ youth, collaborate with a community based agency to begin the clinic and engage in an evaluation of the result.
Karpman received her Ph.D. in social policy from the Heller School, where she was also the recipient of a training grant in alcohol health services research from the National Institute on Alcohol Abuse and Alcoholism. She earned her M.S.W. from the University of Pennsylvania, where she was the recipient of the Fells Fellowship to study and intervene in community-based settings with youth with severe behavior problems. Her B.A. is from Mount Holyoke College, where she studied English and psychology.
Known Donor Project: A study of lesbian, bisexual, and queer families who used known sperm donors.
 
Selected Publications
Crath, R., Karpman, H., Mull, J. J., & Francis, L. A. (2021). Theorizing Black Trans Survivance and Care in the Context of COVID 19: A Clinical Case Study. Smith College Studies in Social Work, 91(1), 55-74.
Mackie, T. I., Schaefer, A. J., Karpman, H. E., Lee, S. M., Bellonci, C., & Larson, J. (2021). Systematic review: system-wide interventions to monitor pediatric antipsychotic prescribing and promote best practice. Journal of the American Academy of Child & Adolescent Psychiatry, 60(1), 76-104.
Fakunmoju, S. B., Bammeke, F. O., Bosiakoh, T. A., Asante, R. K. B., Wooten, N. R., Hill, A. C., & Karpman, H. (2013). Perception and determination of child maltreatment: Exploratory comparisons across three countries. Children and Youth Services Review, 35(9), 1418-1430.
Hodgkin, D., & Karpman, H. (2010). Economic crisis and public spending on mental health care. The International Journal of Mental Health, 39(2), 91-106.
Selected Presentations
Karpman, H. & Propp, J. (2012, November). Beyond the classroom walls: An experiential learning approach to program evaluation. Juried paper presented at the Council on Social Work Education Conference in Washington, D.C.
Karpman, H., Hall, G. & McDonough, D. (2012, September). Cultural considerations in the Massachusetts CANS. Juried paper presented at the CANS Conference in Indianapolis, Indiana.
Karpman. H. & Hull, J. (2011, April). Inter-rater Reliability in the Massachusetts CANS. Juried paper presented at the National CANS Conference in Baltimore, MD.