Alexis Jack Evwynne, LMHC
Office of Practicum Learning Administrative Assistant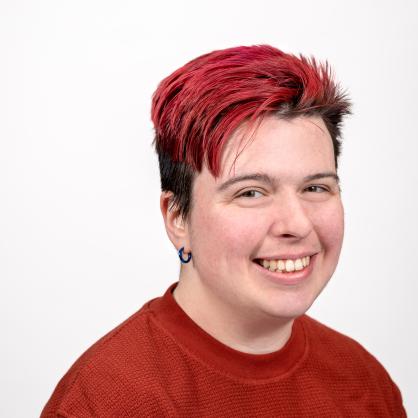 Biography
Alexis Jack Evwynne is one of Lilly Hall's temp staff, formerly the Interim Coordinator to the Deans' Office, and transitioning into supporting the SSW Office of Practicum Learning. He is excited to be switching career paths into supporting higher education and more directly working with students and faculty.
Evwynne is a licensed therapist with experience providing gender affirming care for children and adults in school settings, community mental health, and private practice. He is an active advocate for transgender and non-binary mental health care and accessibility.
During grad school at Antioch University New England, they enjoyed co-leading the PFLAG NH peer support group for LGBTQIA+ community members and allies in Keene, NH, and serving on the PFLAG NH Board.
Alexis Jack Evwynne recently moved together with his wife Jordan Mikayla Evwynne to the Pioneer Valley, and likes videogames, painting, and playing with their energetic kitten Zippy.