Kim Monson, M.S.W. '08, LICSW
Associate Director of Practicum Learning | Practicum Seminar Instructor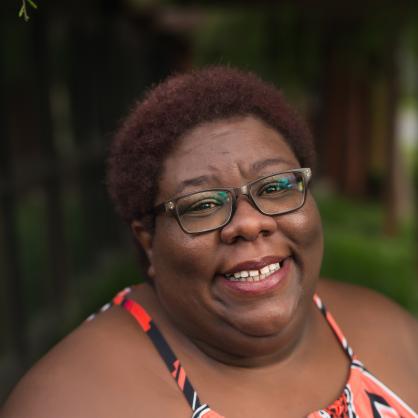 Education
A.A., Holyoke Community College 
B.A., University of Hartford 
M.A., Smith College School for Social Work
Biography
Kim Monson, M.S.W., LICSW (she/her) identifies as a Black, cis female from Western MA. She is a private practice clinician, an adjunct assistant professor at SSW, an adjunct professor at Westfield State University (WSU) and a faculty member at Therapy Training Boston in the Intensive Certificate Program in Family Systems Therapy. In addition, she was a Sotomayor Fellow at SSW.
Monson earned an associates degree in arts & sciences from Holyoke Community College in 2001, a bachelor's degree in human services from University of Hartford in 2004 and a master's degree in clinical social work from SSW  in 2008.
Over the last 15 years she has worked in Western Massachusetts with youth, adults and families. She has worked in a variety of settings, including outpatient, preschools, residential programs for youth in DCF care and with adult women with postpartum depression and/or substance use disorders and as an administrator overseeing residential programs for youth in DCF care.
Monson has received additional training in Cognitive Behavioral Therapy (CBT), Trauma Focused Cognitive Behavioral Therapy  (TF -CBT), adoption competency (becoming an adoption competent therapist), trauma informed treatment and family systems therapy.
As an adjunct professor, Monson has taught Advanced Practicum, Advanced Practice with Families and Foundation Practicum at WSU and second year seminar at SSW. She has also supervised social work students for eight years.
Monson enjoys painting/art, hiking/outdoors, music, reading and spending time with family and friends. In addition, she is a member of the Holyoke Community College Alumni Council.