Shveta Kumaria, M.A., Ph.D., LCSW
Assistant Professor
Contact
Office: Lilly Hall
Email: skumaria@smith.edu
Pronouns: she/her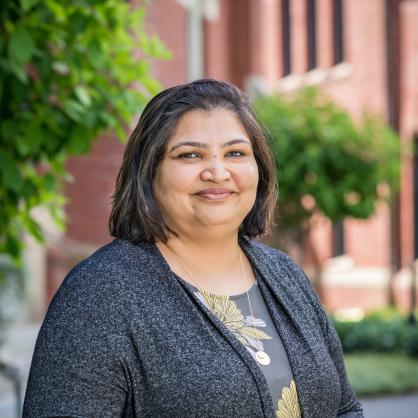 Education
B.A., Indraprastha College for Women 
M.A., Delhi University  
M.Phil., National Institute of Mental Health & Neurosciences 
Ph.D., Loyola University School of Social Work
---
Biography
Shveta Kumaria is an assistant professor in the School for Social Work. Kumaria's research interests lie in psychotherapy research, more specifically therapist factors. This includes scholarship on pedagogy of clinical social work, research on clinician wisdom, and influences that matter in early therapist training such as supervision and personal therapy. She has also presented on couples' relationships and health and on bystanding behavior in response to bullying of minority-identified students in college.
Kumaria did her undergraduate and master's study in India and has a M.Phil from the National Institute of Mental Health & Neuro Sciences (NIMHANS) in Bengaluru, India. She got her Ph.D. from Loyola University, Chicago. She was a pre-dissertation fellow at the Chicago Institute of Psychoanalysis and did a two year post doctoral fellowship at The Family Institute at Northwestern University, Evanston, IL.
Kumaria brings with her over 20 years of practice experience in many clinical settings ranging from mental health hospitals to grassroots-level community organizations and group practice, both in India and the USA. Her practice has deeply informed her research interests and methods, and she is well-versed in both qualitative and quantitative methodology. She sees teaching as a way to connect research back to the field and is deeply invested in making research more practice-informed and vice-versa.
Selected Publications
McKinley, B., Cahill, L., & Kumaria, S. (2023). Wade in the Water: Suggestions for Centering Reproductive Justice in Social Work Education, Practice, and Organizing. Smith College Studies in Social Work,  DOI: 10.1080/00377317.2023.2260487
Kumaria, S., Byers, S. D., McCarthy, K. M. & Moedano, C. (2023). Social Identity as a Factor in Bystander Responses to Bias-Based Verbal Aggression Among College Students. Journal of Aggression, Maltreatment & Trauma, DOI: 10.1080/10926771.2023.2204844
Puranachaikere, T., Sahebi B., Kumaria, S., Aiello, C., Sher, T.G. (2021). Extension of the marriage benefit to long-distance marriages: Comparative evidence from East Asia. The Journal of the Medical Association of Thailand.
Kumaria, S., Bhola, P. & Orlinsky, D. E. (2018). Influences that count: Professional development of psychotherapists and counsellors in India. Asia Pacific Journal of Counselling and Psychotherapy, 9 (1) 86- 106.
Orwat, J., Kumaria, S., Spira, M., Boyle, L., & Bessinger, A. (2018). Class participation as a pedagogical tool in social work education. Social work education: An International Journal, 37 (3), 361-377.
Bhola, P., Kumaria, S. & Orlinsky, D. E. (2012). Looking within: Self-perceived professional strengths and limitations reported by psychotherapists in India. Asia Pacific Journal of Counselling and Psychotherapy, 3 (12), 161-174.