Simone Stemper
Digital Marketing Coordinator
Contact
Office: Lilly 213  
Phone: 413-585-7987  
Email: sstemper@smith.edu  
Pronouns: she/her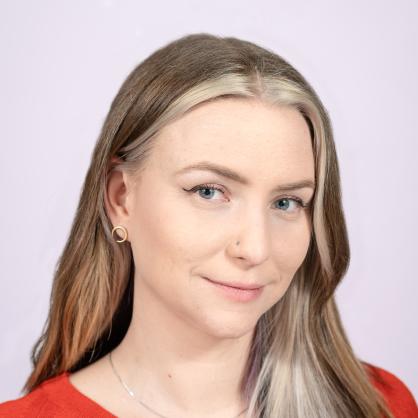 Education
B.A., Hampshire College
M.A., New York University
Biography
Simone Stemper is part of Smith College SSW's small-but-mighty communications team, where she works as the digital marketing coordinator. Her role includes marketing, managing SSW's social media and co-editing InDepth, the School's award-winning alumni magazine. She loves sharing the groundbreaking work that students, faculty and alumni are doing with a wider audience online and in the magazine. 

Stemper has a passion for creative and inclusive communication. With a background in writing, copy editing, social media and content creation, she brings a perceptive and ethical approach to her work. 

Stemper's academic background in French, Modern Standard Arabic, ethics in cultural art forms, orientalism in the U.S. and post-colonial studies in the Maghreb (North Africa) informs her approach to her current role. Her master's degree in Middle Eastern/SWANA studies focused on border and migrant studies and critiques of humanitarianism as a form of colonization and political intervention. 

She loves learning and is currently studying Darija, also known as Maghrebi Arabic. You can also find her exploring the Kwinetekw (Connecticut River) valley in all kinds of weather with her rescue pup Taj.