"We need all of your humanity and heart..."
Mia Mingus encourages class of '22 at Smith College School for Social Work Commencement. 
Capacity for change and healing in community were the central themes of the day as graduates from the Smith College School for Social Work masters' and doctoral programs celebrated the culmination of their program in the midst of the third year of the COVID-19 pandemic. Hundreds masked up in John M. Greene Hall to share cheers, tears and joy for the 109 master's and 13 doctoral students in the class of 2022. 

Dean Marianne Yoshioka opened the proceedings with a call for celebration and reflection: "As you move into the next stage of your career, move into new organizations and communities - what are the principles from which you will operate?  Can you keep them front and center even if you are pulled in many directions? … How will you live your values? Can you be bold? Can you be loving? It is in these moments that the leader in you grows…" 

Provost Michael Thurston followed with a mission for graduates to "heal… societal wounds" of mental health disparities, trauma of displacement, divided families, gun violence, war, and, of course, the ongoing pandemic – while simultaneously honoring select alumni who are fulfilling that mission. 

 
Image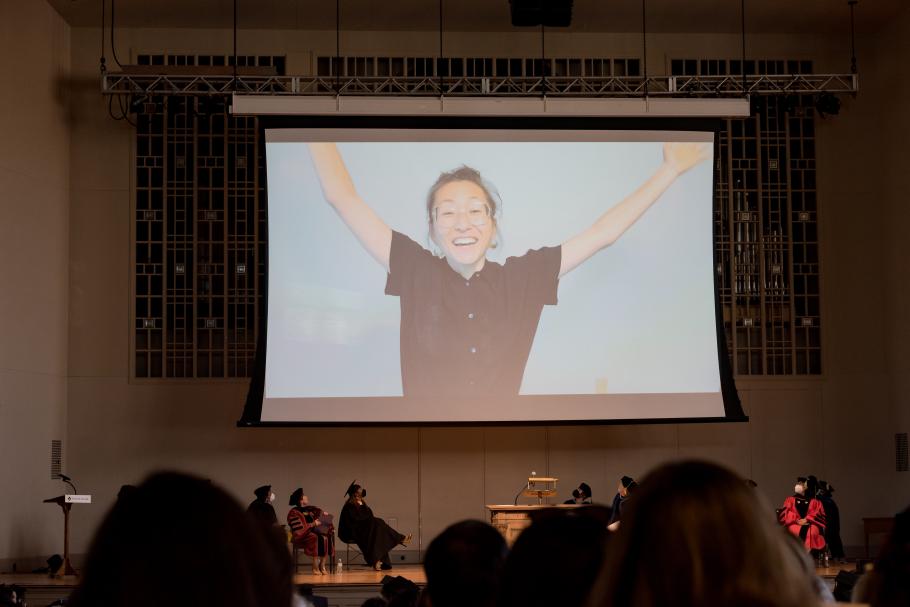 Mia Mingus, transformative and disability justice writer and educator, expressed hope that graduates would "work for a better and more just world, that you will be part of the majesty of liberatory work going on around the globe." Said Mingus, who delivered her remarks via recording, "we need you and the wonderful things that you will do, we need all of your big ideas, we need all of your humanity and heart and capacity for love and liberation and mistakes."  

M.S.W. Class Speaker Beth Nanjala Luvisia delivered a self-proclaimed "collective" speech on behalf of the entire M.S.W. class, hitting the notes of triumph that are inherent in attending school during a pandemic. "Despite the adversity we faced as a class along the way, we continued to show up… We processed more emotions than we ever felt possible, we envisioned a brighter future for the field of social work, and we found our way to each other. We created community. We created a community of radical dreamers, fierce advocates, critical thought partners and generous care workers." Luvisia grieved over being on Zoom and missing out on "two summers of
Image
 all the things that make this program manageable - the joy, laughter and play in this beautiful environment, but also the hugs and shared meals when we're struggling."
This commencement was the first since 2019 to be held in person, and Luvisia praised the the Anti-Racism Planning Group, Council for Students of Color and other student organizations for their role in supporting Black, Indigenous and people of color in their achievement. Accompanying Luvisia were the projected faces of BIPOC faculty and staff that supported these students in reaching this point.  

Ph.D. Class Speaker Georgette Saad shared a list of lessons learned from her career. "That is what I want to leave you with today," said Saad, "… seek connection, practice humility, emanate acceptance of others, show up with authenticity, speak the unspeakable, and delight in each other." 

 
Image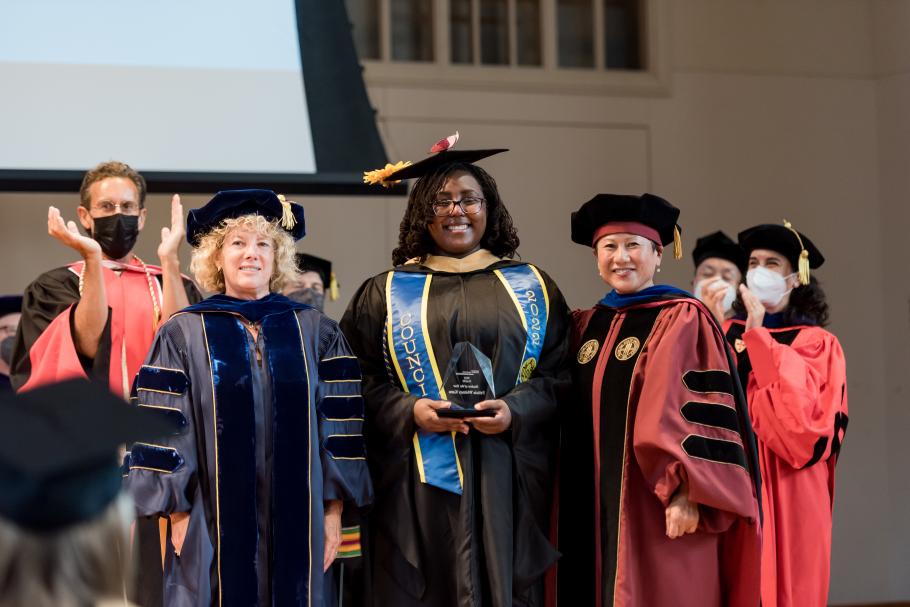 This year's NASW (National Association of Social Workers) student of the year award was given to Felicia Kanu, who was beckoned to the stage to the applause of her classmates, was praised for being "equal parts no-nonsense and fun" whilst possessing a humor that "held space for folks to show up as more of themselves."