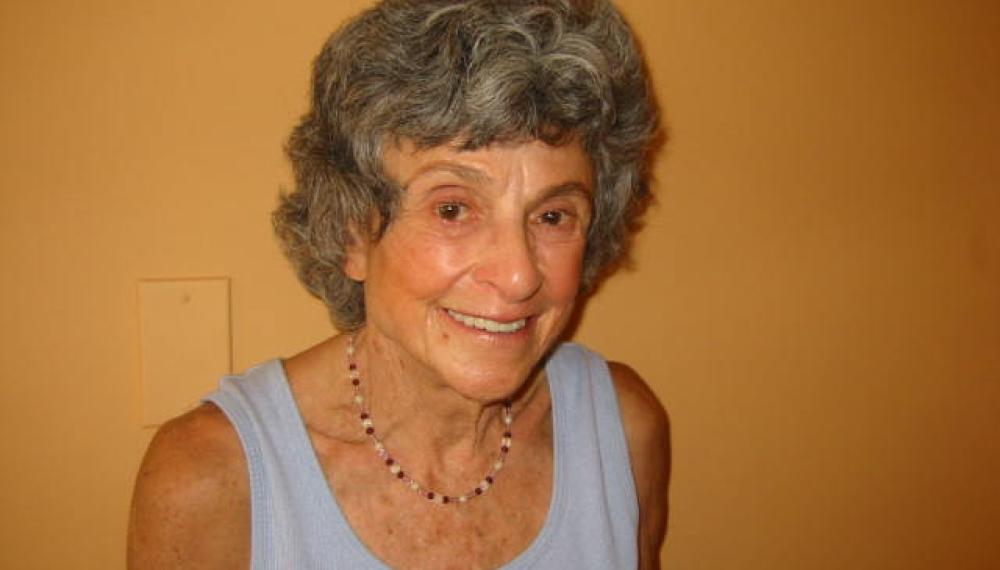 A trailblazer in body psychotherapy, Lamaze childbirth, breastfeeding and women's sexuality, Alice Kahn Ladas, A.B. '43, M.S.S. '46, never hesitated to push boundaries. At 101, she is a somatic psychologist in New Mexico still passionate about her work and family.
Ladas attributes her groundbreaking career to an unusual upbringing. Moving between divorced parents in New York and Alabama gave her a broad view of American life. "I had intercultural experiences few kids have," she explained. "I think that led me to not fully accept the cultures I lived in and to be a pioneer." She also attended the Ethical Culture School, which taught that the purpose of education is to make the world a better place.
Ladas attended Smith College, majoring in political science. Her B.A. thesis was titled, "Towards a Better Presidential System" and she graduated cum laude and Phi Beta Kappa. During college, she had the life-changing experience of getting to know Eleanor Roosevelt while participating in a student leadership program at the Roosevelts' Campobello Island home in New Brunswick, Canada. 
Ladas' first job was with the Fair Employment Practices Commission, where she was successful in upgrading the positions of Black workers at the Patent Office. After hearing Frieda Fromm-Reichman lecture at the Washington School of Psychiatry, Ladas took a job with faculty member Benjamin Weininger. For further training, she returned to Smith to attend the School for Social Work. During her internship placement at the Jewish Board of Guardians, she met family therapy pioneer Nathan Ackerman, who hired Ladas once she completed her degree.
Disenchanted with traditional talk therapy, Ladas was drawn to the work of Wilhelm Reich, and how he incorporated the body into psychotherapy. She joined the staff at Reich's Infant Research Center, and in 1956 helped Reich's student Alexander Lowen incorporate the Institute for Bioenergetic Analysis. 
Reich's work inspired Ladas to help improve the treatment of infants. She studied the Lamaze method of childbirth in France and offered the first course in the United States. Ladas also entered a doctoral program at Columbia Teachers College, where she proposed a dissertation on breastfeeding, working with the newly formed La Leche League. Faculty refused to support this subject until Ladas convinced legendary anthropologist Margaret Mead to join her committee. Ladas completed her Ed.D. in 1970, and her dissertation was published in peer-reviewed journals in medicine and sociology. "That's what I'm most proud of," she said. "I believe it influenced, in the United States at least, more women to breastfeed."
In the early 1980s, Ladas and her husband, Harold Ladas, collaborated with Beverly Whipple and John Perry on the groundbreaking book The G Spot and Other Discoveries About Human Sexuality. Published in 1982, it became an international bestseller. 
Continuing to practice part time, Ladas also travels to visit her children and grandchildren, plays piano, performed in her friend's musical The Vagina Penis Dialogues and stays very physically active. The namesake of the U.S. Association for Body Psychotherapy's research award, Ladas continues her lifelong interest in research. She recently added a therapeutic approach she calls Early Coping Strategies: Another Kind of Addiction focusing on how early coping strategies may negatively impact adult functioning. She hopes to find a graduate student to research this topic so it is not just her N of 1 belief.