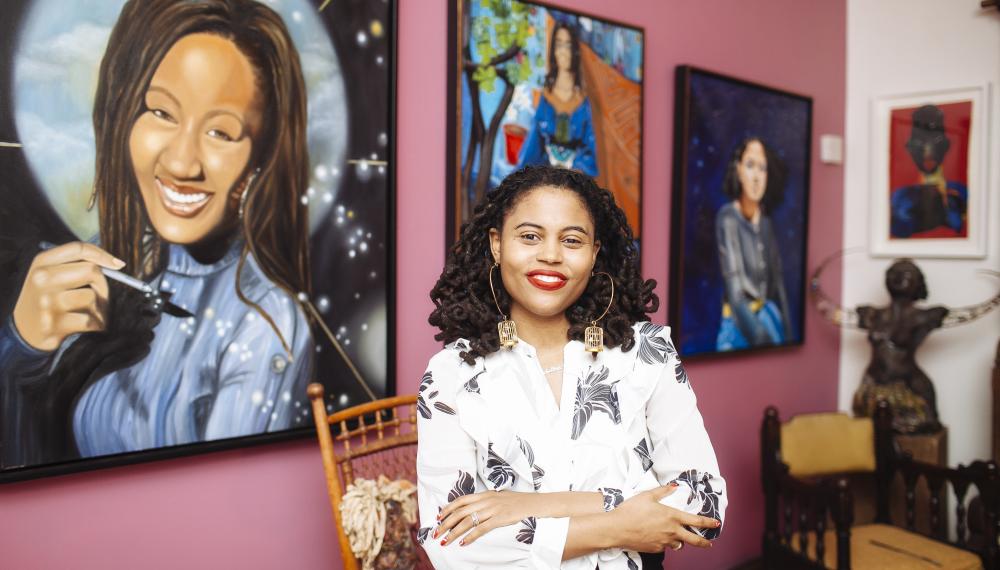 How do you encourage a teenage Black girl's awareness of Black history and culture, including those aspects not always recognized as significant, such as the domestic arts of cooking, making a home, tending a garden, growing food? What are the characteristics of a safe space, a sacred space, for Black girls and Black women? How do you incorporate those characteristics into institutional spaces?
These are some of the questions Loren Cahill, an SSW assistant professor, has been exploring recently. In addition to doing research into social justice aspects of social work, she has been working with M.S.W. students, writing papers and acting as the first scholar- in-residence of The Colored Girls Museum (TCGM) in Philadelphia. In the latter capacity, she has been involved in producing research projects, lectures, courses and programs since 2021 and will continue into 2023. In summer 2022, Cahill taught the M.S.W. core course, Community and Agency Practice and her newly created elective, Love, Care and Community Praxis. 
Cahill was awarded her Ph.D. in Critical Social/Personality Environmental Psychology from the City University of New York last year, after earning her bachelor's in Africana studies and education from Wellesley College and a master's degree in social work from the University of Michigan. 
Her current investigations build on those she did for her dissertation, "The Space Love Maps: A Blackgirl Legend in Three Plots." (The one-word term Blackgirl refers to Dr. Robin Boylorn's concept of "the indivisibility of race and gender in the marginalized lives and experiences of Black women.") 
In summarizing her thesis, Cahill has stated, "The major argument for this dissertation is that radical love is a regular praxis through which Blackgirls create spaces that center themselves and their community." For her dissertation, she examined how the three "plots," all Philadelphia-based organizations, were working in different ways to create centering spaces for Black girls and Black people in general. 
Our Mothers' Kitchens hosts community dinners and offers summer camps for Black teenage girls. Black Quantum Futurism creates community-based events, performances, exhibitions, and publications focusing on "recovery, collection, and preservation of communal memories, histories, and stories," according to its website. 
The third organization, The Colored Girls Museum, describes itself as "a memoir museum, which honors the stories, experiences and history of ordinary Colored Girls … a clearinghouse of multidimensional arty-facts, objects and information about Colored Girls: equal parts research facility, exhibition space, gathering place and think tank." 
Image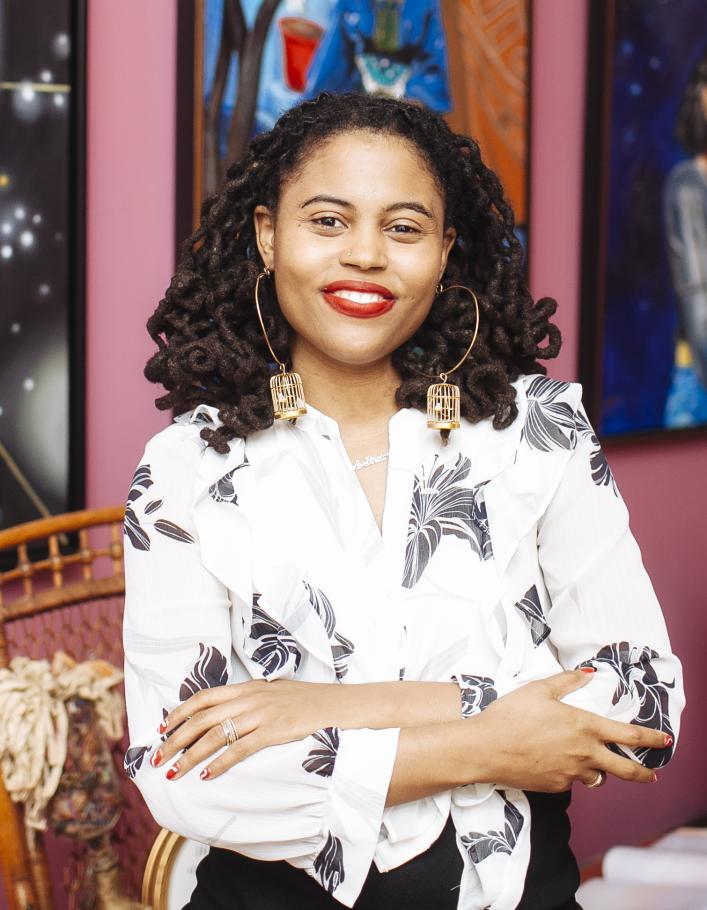 Cahill's interest in healing spaces and organizations for African Americans dates back to her teenage years, when she attended workshops led by Stefan Bradley, professor, scholar and author of such award- winning books as Harlem vs. Columbia University: Black Student Power in the Late 1960s. Her advocacy for social justice has even deeper roots. Her grandfather, Clyde S. Cahill Jr., the first African American federal trial judge in St. Louis, was an important figure in her formative years. Among his antiracist actions were filing a lawsuit that called on Missouri to implement the Supreme Court's ruling, Brown v. Board of Education and end school segregation in that state. He also took a groundbreaking stand on federal sentencing guidelines as being "directly responsible for incarcerating an entire generation of young black American men for very long periods." 
Recognizing the depth and breadth of Black history, Loren Cahill pursues research that goes back and forward in time. One of her recent projects was collecting oral histories from activists Charles E. Cobb, Jr., and Alexander S. Davis. Cobb has written books on racial issues, reported for NPR and National Geographic, run an African American bookstore, served as the field secretary of the Student Nonviolent Coordinating Committee (SNCC) during the civil rights era. Davis is a poet, rapper, and healing justice organizer for HOLLA!, which works with New York City youths of color to foster their growth as grassroots community leaders. 
In delving into the narratives of Cobb and Davis, men from different eras and generations, Cahill looked for parallels and contrasts between their experiences in two transformative movements, sought to consider their legacy and to learn, she said, "what sustains them and keeps them returning to their work." The results of her inquiry are contained in a paper she has submitted for publication, "Black Dreams Matter: Exploring the Realm of the Black Radical Imaginary Through an Intergenerational Oral History." 
In June 2021, the journal Visual Arts Research published another paper by Cahill, "Radical Love Unlimited: A Biomythography," in its special issue "Arts & Aesthetics of Black Girlhood." She places a high value on art as a medium for social change, and she gravitates to nontraditional, creative approaches to presenting her ideas. 
Last summer, for instance, she was a contributor to a coproduction of the arts journal e-flux and the Guggenheim Museum. The online project, Survivance, featured a collection of writings exploring the concept of "hyper-vitality, super-vigor" delineated by Native American writer Gerald Vizenor. Cahill's essay "Love Space, or, How to Recognize Blackgirl Spatialities," combined stills from her film Loren's Love Note Audio Collage with text on both contemporary and timeless elements of Black culture, from Instagram Verzuz competitions to the importance of the porch/stoop as "a natural place for convening and healing." 
"Art allows me to be creative outside the canon," she said. "Someone who's not going to read my 300-page Ph.D. dissertation or my scholarly writings—the currency of academia—will attend an art exhibition. Art can make ideas accessible and available to a wider range of people; it provides an entry site. It's a way of inviting people in." 
One such inviting project that Cahill is excited about is a series of exhibitions she is organizing. In its first iteration, "The First Time Ever I Saw Your Face" was hosted last year by the nonprofit organization Slought, on the campus of the University of Pennsylvania, in partnership with The Colored Girls Museum. "First Time" featured paintings by Black female artists of Black girls ages 10 to 18. TCGM hosts the exhibition, which takes its title from the famous Roberta Flack song, this spring. She is in the process of arranging similar "First Time" exhibitions in other cities in the United States and in Jamaica and South Africa. (Cahill was an exchange fellow at the University of the Witwatersrand in Johannesburg in 2018.) 
By bringing people face to face with these portraits, Cahill seeks to provoke serious reflection about prevalent and harmful misconceptions about Black girls. She cites a growing body of research that has documented inequities in their treatment by law enforcement, the justice system and schools. They are expected to act older than they are, to conform more rigidly to social standards and are punished much more harshly when they don't comply than their white counterparts. 
The show asks viewers what the challenges are that these young women face and what they risk when they assert their right to be fully themselves. Cahill hopes that teachers, social workers, doctors, and police in particular may enter into dialogue with the images before them. 
"First Time" is not only about how others see Black girls—but also about how they see themselves. Cahill hopes that the portraits, a form of monument to the "ordinary black girl," will prompt meaningful responses from the young women who stand before them. Her own inquiries include probing what the sitters, or "muses," as Cahill calls them and the artists experienced during the creative process. "I want to know from each artist, 'When you looked at the girl, what did you see?'" 
While her research manifests itself in diverse forms—papers, films, essays, art—it is always driven by strong intellectual curiosity and a heartfelt commitment to investigating a range of Black experiences. In doing so, she delineates the many forms that social justice can take and the pathways that social work can travel. As she sees it, her mission is not only to document "the deficits, the betrayals and the trauma" that have often been the focus of social work efforts, but also to emphasize the "resiliency of Black people, how they have created spaces that engender love, that allow them to be loved." 
"That is not to diminish the betrayals, the trauma," she noted, "but they're not the final word, and I want to show that. I want to show the knowledge, the strength, the beauty that Blacks have accumulated and engendered."