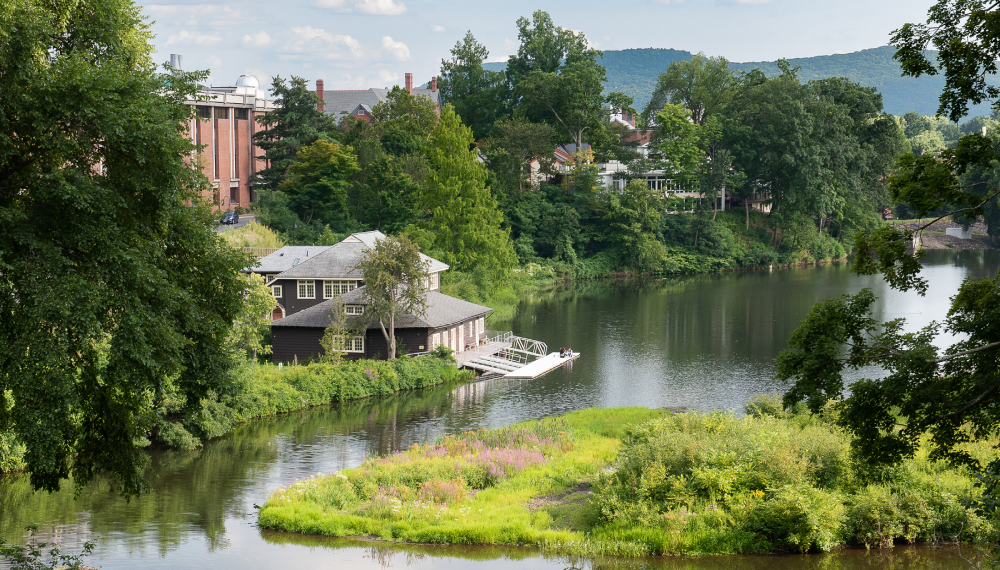 A graduating class hailed as "tenacious," "adaptable" and "exceptionally well-prepared" will celebrate the culmination of their persistence in the face of great uncertainty during the Smith College School for Social Work graduation celebrations this weekend.
"As the last class that began virtually, this group of graduates have demonstrated their ultimate ability to adapt," said Associate Dean of Graduate Enrollment and Student Services, Irene Rodriguez-Martin. "Absolutely nothing was going to derail their goal to become the best clinical social workers ever! They've been tenacious!"
Celebrations for the class of 2023 will begin on Friday, August 18 at 4:30 p.m. in John M. Greene Hall. The graduates include 132 master's students and six doctoral students. In addition to the 2023 graduates, several alumni from the master's and doctoral classes of 2020 and 2021 will return to campus to participate in Commencement. 
Commencement speakers will include the college's new president, Sarah Willie-LeBreton; Jamie  Daniels, M.S.W. '14, Ph.D. '23,  a trauma-informed psychotherapist and educator; and Safia Albaiti M.S.W. '23, a Yemeni Muslim immigrant student whose interests include trauma therapy, liberation psychology, and religion and spiritual belonging.
The graduating students completed their first summer of classes remotely, arriving on campus for the first time in 2022. They have spent more than 250,000 hours in their practicum placements, gaining real world experience while working with clients. When they returned to campus for the summer coursework, they participated in the creation of new traditions like the opening and closing ceremonies, Pride, and a grounding solstice celebration. 
"Many of these students began their education in the midst of a pandemic, completing their first practicum year during the height of COVID-19. This has left them exceptionally well prepared to enter their careers," said Dean Marianne Yoshioka. "They are equipped with the tools to offer care not only via telehealth but also in-person. They approach their work with a flexibility that can only be learned during times of great uncertainty."
This year's featured Commencement Speaker is Smith College President Willie-LeBreton. President Willie-LeBreton is an accomplished administrator, scholar, and sociologist who studies social inequality and race and ethnicity. 
The M.S.W. class speaker is Safia Albaiti '23, a Yemeni Muslim immigrant whose interests include psychoanalysis, trauma therapy, liberation psychology, and religion and spiritual belonging. She also studies policy work around non-carceral socialized access to mental health care. After graduation, she will be in private practice in New York City, working with children and adults.  
Jamie Daniels, M.S.W. '14, Ph.D. '23,, the doctoral class speaker, is a trauma-informed psychotherapist, educator, researcher and scholar. She is also a political activist, organizer and mother of three. Daniels is currently an at-large candidate for Town Council in Amherst, MA, where she lives and works.
As part of the ceremonies, the National Association of Social Worker (NASW) Student of the Year will be recognized. 
The ceremony will be live streamed on Facebook and YouTube. 
Smith SSW is committed to hosting a safe event for all. Anyone experiencing symptoms of COVID-19 is encouraged to stay home and participate via the live stream. Masks will be available at the door for those who prefer to wear them.