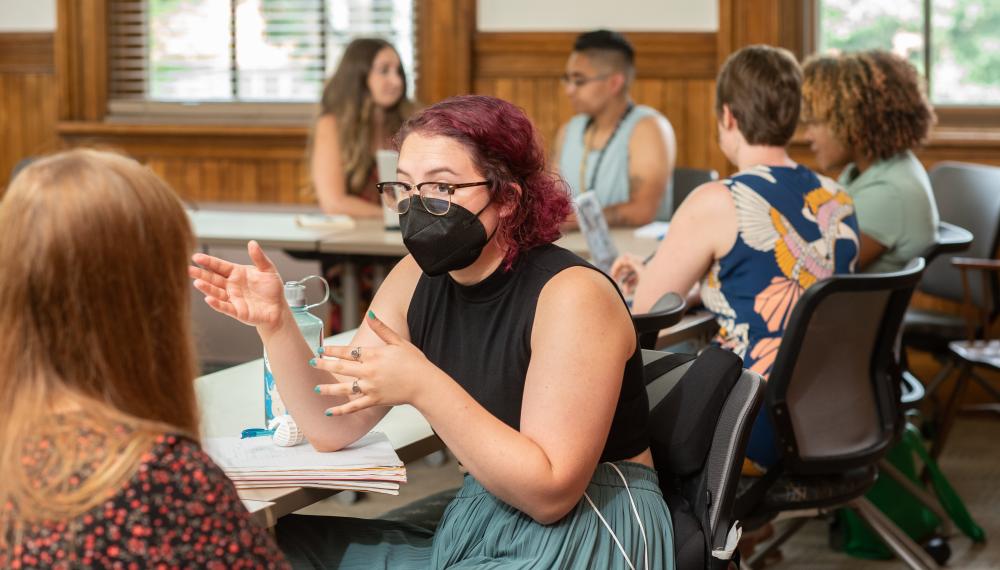 Since the onset of the pandemic, telemedicine has become a major means of delivering mental health services. During her second-year practicum, Rachel Yousman got a solid grounding in working remotely, and that's serving her well in her new position at Advance Psychotherapy Practice, in Amherst, Massachusetts. As a post-graduate fellow, she's seeing some clients in person, but more often via a telehealth platform.
That practicum was rewarding in a number of ways, in part because it was at her alma mater. "I was an intern at Mount Holyoke College (MHC) Counseling Service," explained the 2019 MHC grad. "I felt incredibly supported there. Mount Holyoke is a gender-diverse women's college, and I was seeing many women and LGBTQIA+ folks. I discovered that I loved working with emerging adults of those identities." At Advance, she's hoping to continue working with members of this community and, more broadly, clients seeking support related to sex and sexuality, reproductive health, and relationship dynamics.
"Having been an undergraduate at Mount Holyoke not that long ago," Yousman said, "when students talked about stressors, I had some insight into what they felt. Just knowing the names of buildings on campus, what the dining hall is like, was a help.
Image

"And I learned a really important lesson. Even though I had gone to college there, I saw that the experience is different for every person. You can't know exactly what it's like for someone. In a funny way, that takes the pressure off: You can't know 'everything.' It's important to be aware of that when you're counseling someone."
Her SSW courses were equally enlightening, said Yousman. "Since I graduated, I've been thinking a lot about my classes, especially my third-year courses. They were so foundational—life-changing! Davey Shlasko's 'Sociocultural Concepts and Transgender Studies: Theory, Practice & Advocacy' completely changed the way I thought about gender, for myself, clients, everyone. And until I took Arden O'Donnell's 'Social Work in Health Care,' I didn't think of medical social work as a possibility. That's a path I can see myself pursuing in the future."
For now, Yousman is happy to be in "gorgeous" western Massachusetts; when she was applying to M.S.W. programs, Smith's location was a draw. Even more so, the fact that it offers nearly twice as many practice hours as many other schools. But most compelling were her conversations with SSW students.
"I loved the way they talked about social work—reflectively, critically. I wasn't hearing that from students at other schools. My B.A. in gender studies, I think of it as a 'critical thinking degree,' and I wanted to continue in that direction. Those conversations convinced me that at SSW I would get the best possible education and come out most prepared."