Cole Hooley | Co-Chair
Image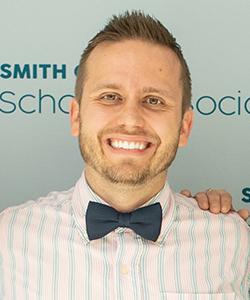 Cole Hooley, M.S.W. '09, is currently a doctoral student in social work at Washington University where he is studying the dissemination and implementation of evidence-based mental health practices in community settings, with a particular interest in communities impacted by poverty. Previously, Hooley was the director of social work and counseling services at Harlem Village Academies in New York City and also oversaw the district's internship program. He enjoyed mentoring M.S.W. students in his role as a field instructor with Columbia University and Smith College. A few nights a week he worked at an outpatient clinic where he primarily treated adults and couples. In addition to his previous clinical work, Hooley also conducted research with New York University, Columbia University and the University of Maryland.
When Hooley is not working, he is adventuring with his wife and three daughters. He loves theater, wandering through museums, reading things that make him pause, eating desserts of all types and walking with no particular destination in mind.
Hear Cole Hooley, M.S.W. '09, Speak about the Alumni Leadership Council
---
Yvette Colón | Development Representative & Chair of the 1918 Fellowship Society
Get in touch with Yvette Colón
Image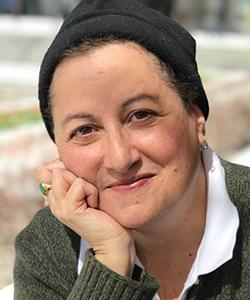 Yvette Colón, M.S.W. '90, Ph.D., is associate professor at Eastern Michigan University School of Social Work where she teaches practice and theory courses. She previously taught the School's Social Work Practice in American Health Care elective for several years. She also is a member of Amplify Colectivo, a multicultural private practice group in SE Michigan, providing short-term individual and couple psychotherapy to adults dealing with depression, anxiety, trauma, chronic pain, LGBTQQ+ issues and family issues. She is engaged in ongoing research evaluating the effects of participation in web-based creative art and music programs on mental health and quality of life for adults with chronic pain. A longtime supporter of the School, Colón has served on the Alumni Leadership Council twice before, as the Region I Representative (New England) and as Chair of the Alumni of Color Standing Committee. She currently serves as the Development Representative.
Hear Yvette Colón, M.S.W. '90, Ph.D., Speak about the Alumni Leadership Council
---
Kelly Wise | LGBTQ Representative
Image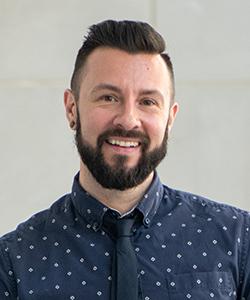 Kelly Wise, M.S.W. '05, Ph.D., is the founder of Wiser Sex Therapy in New York City which offers sliding scale, sex positive sex therapy with a focus on LGBTQAI, kink, poly, couples and individual work. Wiser Sex Therapy creates sustainable, living-wage training opportunities for social workers in a supportive and loving environment. Away from work, Wise enjoys time outdoors, building things, working out, and spending time with his fantastic partner, Roseanne, and their energetic cattle dog mix, Wylie, in their little getaway upstate.
Hear Kelly Wise, M.S.W. '05, Ph.D., Speak about the Alumni Leadership Council